Uit handen van zeven internationale juryleden van Women's World Car of the Year ontving Volvo vandaag de felbegeerde Women's World Car of the Year award 2015 voor de Volvo XC90. Locatie van dit mooie event? Volvo City: Gothenburg. Hoofdredacteur Odiel, tevens jurlid Women's World Car of the Year, was bij de overhandiging!
In oktober 2015 is de Volvo XC90 gekozen tot Women's World Car of the Year 2015. In deze wereldwijde verkiezing heeft Volvo finalisten verslagen zoals de Mercedes, BMW en Renault. Volvo is vanaf nu de gelukkige eigenaar van maar liefst twee Women's World Car of the Year certificaten: eentje voor het winnen van de supreme title en de andere voor het winnen in de categorie SUV/Crossover.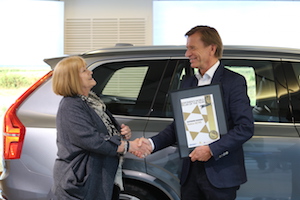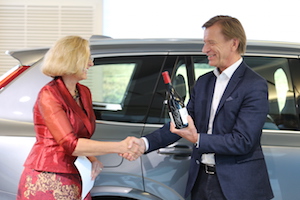 Håkan Samuelsson, President & CEO of Volvo Car Group: "We are very honoured to receive this prize. We see it as a recognition of having delivered on our promise, to understand you, to protect what's important to you and to make you feel special. This is the essence of the Volvo brand and the XC90 is a perfect example of this."
De eenentwintig koppige jury afkomstig uit 15 landen baseert haar oordeel op tien eigenschappen waaronder: design en functionaliteit, stijl en uitstraling, comfort, praktisch gemak, invloed op milieu en rijeigenschappen. Andere belangrijke factoren zoals de 'wow-factor, sex appeal en prijs-kwaliteitverhouding maken ook onderdeel uit van de beoordeling. Eigenschappen die door vrouwelijke autokopers als belangrijk worden gevonden.
"The trophy is a hand-carved wooden depiction of a curled fern frond – a New Zealand symbol known as the koru. The wood is ancient, native, kauri. The sculptor is nationally-renowned Hugh McKechnie from Kerikeri in the Bay of Islands, New Zealand.", vertelt Sandy Myhre oprichter Women's World Car of the Year.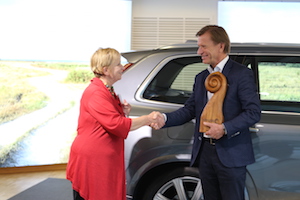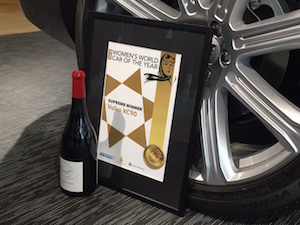 Met Zweden als gastland en zeven juryleden van over de hele wereld, voelde het stiekem aan als een kleine editie van het Eurovisiesongfestival. Douze points Zweden! De aanwezige internationale juryleden Women's World Car of the Year:
Sandy Myhre (New Zealand), Sue Baker (UK), Marta Garcia Fernandez (Spain), Lou Ann Hammond (USA), Sevil Okumus (Turkey), Holly Reich (USA) & Odiel Mennink (The Netherlands).
Comments
comments